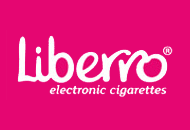 Welcome to Liberro Electronic Cigarettes.
Our products are intended for adult smokers. This website contains tobacco & nicotine related products and images. By entering the site, you are confirming that you are over the age of 18 which is the required age in the UK to purchase our products.
Contact

Have a Question?

Please add a short message.
WEEE Compliance
Liberro® and the (WEEE) Regulations
The Waste Electrical and Electronic Equipment (or WEEE) Regulations are now U.K. law. All European member States including the U.K. have agreed to reduce the amount of WEEE that is being disposed of in landfill sites.
It is important that the amount of WEEE going into landfill is reduced because:
Some WEEE can be re-used or recycled. The amount of landfill space available in the UK is decreasing. If we can keep WEEE out of landfill sites it means there is more landfill space available for non-recyclable waste.
WEEE can contain hazardous substances. When left in landfill sites the hazardous substances in WEEE can pollute soil and contaminate water supplies. This contamination can damage human health and the environment.
Distributors of new Electric and Electronic Equipment (or EEE) have a part to play in reducing the amount of WEEE going into landfill sites.
The Liberro® Take Back Scheme
The WEEE TakeBack Scheme excludes batteries.
Liberro e cigs are committed to reducing our impact on the environment, which is why we offer free take-back WEEE from our customers on a like-for-like basis.
This means that if a customer buys a new charger or cartomiser tip from Liberro, we will take back their old charger, or cartomiser tip and prevent it going into a landfill site by disposing of it safely.
Customers must return their old item within 28 days of purchasing their new item. If you would like to return your WEEE to us then please contact us at the E-mail address / telephone number below.
E-mail: admin@liberro.co.uk
Telephone number: 01763 272774
Please be aware that customers must pay the cost of posting their items to Liberro
Alternatively you could return your old items to the local store at which you purchased them.
Under the WEEE Regulations, all new electrical goods should now be marked with the crossed-out wheeled bin symbol as shown on our packaging. Goods are marked with this symbol to show that they were produced after 13th August 2005, and should be disposed of separately from normal household waste.