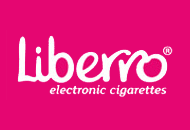 Welcome to Liberro Electronic Cigarettes.
Our products are intended for adult smokers. This website contains tobacco & nicotine related products and images. By entering the site, you are confirming that you are over the age of 18 which is the required age in the UK to purchase our products.
Contact

Have a Question?

Please add a short message.
Electronic Cigarettes

more info....
Electronic cigarettes are a cleaner alternative to tobacco cigarettes. They imitate the ritual of smoking, provide nicotine satisfaction, smoke like vapour but don´t contain the nasties associated with burning tobacco!
If you are new to e-smoking, try the Liberro Go - it's a one-piece disposable e-cig that lasts approximately the same as smoking 20 cigarettes! The same size as a king size cigarette, it´s convenient and easy to use. All you need to do is take the `Go´ out of the packet, inhale and enjoy!

Once you have experienced e-smoking with a Go, then why not consider purchasing a starter pack. Our starter packs have everything you need for e-smoking or what is also called 'vaping'. Many customers begin their journey with the Amo e cig starter kit.