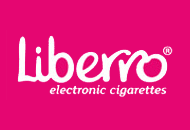 Welcome to Liberro Electronic Cigarettes.
Our products are intended for adult smokers. This website contains tobacco & nicotine related products and images. By entering the site, you are confirming that you are over the age of 18 which is the required age in the UK to purchase our products.
Contact

Have a Question?

Please add a short message.
Electronic Cigarettes

more info....
Electronic cigarettes are a cleaner alternative to tobacco cigarettes. They imitate the ritual of smoking, provide nicotine satisfaction, smoke like vapour but don´t contain the nasties associated with burning tobacco!
If you are new to e-smoking, try the Innokin Endura T18E. It's a great, easy to use device that replicates the smoking experience remarkably well, especially when used with our exclusive Knightsbridge e-liquid.

When you're ready to create massive clouds of vapour we'd recommend the Innokin CoolFire Mini with Slipstream tanks. A fabulous little sub ohm kit to create plumes of vapour. Team it up with our exclusive Fruit Crush e-liquid and you'll be in vaping heaven!