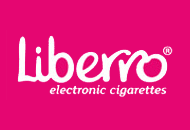 Welcome to Liberro Electronic Cigarettes.
Our products are intended for adult smokers. This website contains tobacco & nicotine related products and images. By entering the site, you are confirming that you are over the age of 18 which is the required age in the UK to purchase our products.
Contact

Have a Question?

Please add a short message.
Buy The Best E Liquids In The UK
more info....
Experience Liberro´s exceptional range of mouth-watering e-liquid and try traditional tobacco, exhilarating menthol or our variety of fruit flavours or why not try our extended range of DV premixed flavours

comprising a 50% VG 50% PG diluent mix, or the delicious Djinni range comprising a 60% VG 40% PG diluent mix. You're sure to find something that you'll love!
We are particularly proud of our exclusive high-quality Liquid Purity range - each of which is derived from the very best ingredients and available in a variety of nicotine strengths comprising a 50% VG 50% PG diluent mix.
We ensure that stringent batch controlling procedures are maintained which ensure exceptional quality in every bottle. Each 10ml bottle of e-liquid sold is fully tested and compliant with all relevant UK and EU safety standards, is TPD approved, has a childproof cap, and is compatible with all electronic cigarettes.
This exclusive e-liquids UK range is certified DEG free and uses pharmaceutical grade nicotine (the same as the nicotine used in nicotine replacement therapy patches and gum) and is produced right here in the UK from finest quality ingredients sourced from within the EU.
Apart from flavouring and nicotine, like most e-liquids, our liquids also contains propylene glycol (PG), and vegetable glycerine (VG) PG & VG are present in a huge range of items including everyday household items like toothpaste and soap. ECITA routinely test our e-liquids using GC/MS, with isotope dilution analysis to determine nicotine concentrations. This testing demonstrates precisely what is in the liquid:
Propylene Glycol (PG) CAS 57-55-6

Vegetable Glycerine (VG or `Glycerol´) CAS 56-81-5

Nicotine CAS 54-11-5

Food-standard flavourings