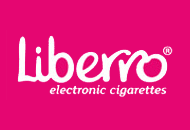 Welcome to Liberro Electronic Cigarettes.
Our products are intended for adult smokers. This website contains tobacco & nicotine related products and images. By entering the site, you are confirming that you are over the age of 18 which is the required age in the UK to purchase our products.
Contact

Have a Question?

Please add a short message.
Customer Rewards
Where loyalty is rewarded!
Earn points with every purchase whenever you shop with us. Points soon add up and mean money off your next purchase towards any of our products or even free shipping (if you are spending under the free shipping value!)
How does it work?
When you make your first purchase from our website you will automatically be entered into our loyalty programme.
It´s simple to use: the points are automatically added to your account after a successful order and can be redeemed 24-hours after or whenever you want to for subsequent purchases. if you have been accumulating points a maximum of 2000 (£20 value) can be redeemed in a single transaction.
Each e-product carries a points value and these are shown under shopping basket icon on each product page. You will earn one point for every pound spent.
Promotions
From time-to-time we will offer promotions on points so you can earn more so it's well worth signing up for our newsletter to keep up to date on our latest promotions.