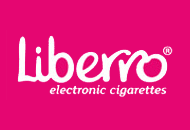 Welcome to Liberro Electronic Cigarettes.
Our products are intended for adult smokers. This website contains tobacco & nicotine related products and images. By entering the site, you are confirming that you are over the age of 18 which is the required age in the UK to purchase our products.
Contact

Have a Question?

Please add a short message.
Returns Request
DEFECTIVE OR DAMAGED PRODUCTS (RETURNS)
If the Products delivered to you are defective, or become defective on receipt by you or within 30 days upon receipt by you, we will provide you with suitable replacements, or if such Product is unavailable, then an alternative which is of the same or similar quality and value.
How long do these products last?
Electronic cigarette batteries, including PCCs and e-pipe batteries are consumable products and as such we expect them to last at least 4 weeks from the date of receipt by you. We are happy to replace any of these products found to be faulty within this time.
Single Use items such as clearomisers, cartomisers, tips, the Liberro Go & Corona Grandes are disposable consumable products and as such we expect them to last at most the amount of use stated on each individual product information page. We are, however, happy to replace these items if they are found to be faulty upon receipt by you.
Due to health and hygiene reasons we cannot re-sell opened eLiquid. You may still cancel the contract within 7 days of receipt and send back the goods but please note, however, that opened eLiquid returned under this law will be subject to a restocking fee of the full amount of the product cost as the eLiquid cannot be re-sold.
This does not affect your statutory rights. If you need to return a product to us please click HERE to login and submit a returns request.
Important Battery Safety Advice
Do not leave batteries in any place exposed to direct sunlight, such as a vehicle dashboard or a window sill, or exposed to high temperatures such as a vehicle parked in the sun. Doing so may cause the battery to leak.

Do not leave batteries near a heat source, such as a stove. Doing so may result in overheating, explosion or fire.

These batteries should ONLY be charged with this models dedicated cable & charger. They ARE NOT cross compatible with other model chargers. ONLY CHARGE VIA A PC/MAC USB PORT OR THE LIBERRO VEHO MAINS USB ADAPTER. DO NOT USE BATTERIES OR CHARGERS FROM ALTERNATIVE SUPPLIERS WITH LIBERRO PRODUCTS.

Failure to observe the above may result in fire or explosion. Users of these products agree to accept all responsibilities for all such risks and not hold Liberro, its Distributors or Retailers (including Owners and Employees) responsible for any accident, injury to persons or damage to property caused by failure to follow these instructions.
The Returns Process
We pay for return delivery costs in the UK using our FREEPOST address and will email you with full instructions on how to send back your faulty item. For overseas returns we provide your choice of product up to a maximum value of £5.50 GBP with your replacement to cover your cost of return postage to us.
Once we have received the faulty item we will investigate the fault and replace accordingly.
The life of the Product is dependent on your use of it in accordance with the instructions and is therefore subject to wear and tear. We are not liable to refund and/or compensate you where the Product is damaged by you through normal wear and tear
Liquid Damage Policy
When refilling tips or cartridges ensure that the tip or cartridge IS NOT connected to the battery. After filling ensure that there is no excess liquid on the thread of the tip or atomisers. Excess liquid can enter the battery and damage the sensitive electronics and switch within. Liquid damage is not covered under the returns policy.
If you wish to return a Product which you believe to be defective, please use this form only and provide us with a full description of the fault and details of the original order number.


Please do not send returns to us without a Returns Authorisation. Any returns received without a Returns Authorisation will NOT be processed.
You will be notified via email that a replacement Product under the originating order is being processed within 48 - 72 hours. Full details can be found in our terms and conditions HERE