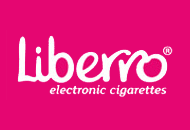 Welcome to Liberro Electronic Cigarettes.
Our products are intended for adult smokers. This website contains tobacco & nicotine related products and images. By entering the site, you are confirming that you are over the age of 18 which is the required age in the UK to purchase our products.
Contact

Have a Question?

Please add a short message.
Newsletter & Social
Sign up for exclusive discounts and news!
Sign up to our newsletter and get an exclusive subscriber only discount coupons to use on your next order. We'll also keep you informed about our latest offers and products along with further subscriber only deals and the latest insider e cig information.