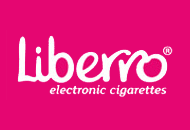 Welcome to Liberro Electronic Cigarettes.
Our products are intended for adult smokers. This website contains tobacco & nicotine related products and images. By entering the site, you are confirming that you are over the age of 18 which is the required age in the UK to purchase our products.
Contact

Have a Question?

Please add a short message.
Purity™ E Liquid

more info....
Purity... the condition or quality of being pure...
Manufactured in the UK we maintain stringent batch controlling procedures which ensure exceptional quality in every bottle. Liquid Purity is fully compliant with all the latest UK and EU safety standards, has a childproof cap, and is compatible with all electronic cigarettes.

This exclusive e-cig Liquid Range uses pharmaceutical grade nicotine (the same as the nicotine used in nicotine replacement therapy patches and gum) and is produced in the UK from finest quality ingredients sourced from within the EU.