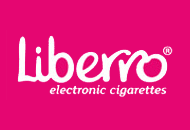 Welcome to Liberro Electronic Cigarettes.
Our products are intended for adult smokers. This website contains tobacco & nicotine related products and images. By entering the site, you are confirming that you are over the age of 18 which is the required age in the UK to purchase our products.
Contact

Have a Question?

Please add a short message.
Liberro and the TPD
What the Tobacco Products Directive (TPD) 2016 means to you:
Liberro's ongoing commitment to full compliance since 2008 across our ranges of hardware and eliquid ensures the we'll be able to continue to provide you with ongoing support for all your vaping needs throughout the changes with TPD and beyond.
It is estimated that around 2.6 million adults in Great Britain currently use electronic cigarettes, around two out of five users are ex-smokers and three out of five are current smokers
From 20th May 2016, the TPD laws will be standardised across the entirety of the EU market limiting the sizes of the liquid bottles you can buy and restricting how much nicotine they can contain.
The changes to the EU's 2001 Tobacco Products Directive, will include vaping which will be classed as a tobacco related product.
These rules change how e-cigs and vaping products can be sold and manufactured, as well as how they can be displayed in shops and advertised or promoted.
So what are the major changes for you from May?
The change:
10ml - Maximum Eliquid Bottle Size
The result:
Retire our 30ml bottles by May 20th or when our bottle/label stock runs out, whichever is later.
The change:
2ml - Maximum Tank Size
The result:
Retire tanks larger than 2ml by May 20th or when our stock runs out, whichever is later.
The change:
2.0% / 20mg – Maximum Nicotine Content
The result:
Retire 2.4% & 3.6% eliquids by May 20th or when our stock runs out, whichever is later.

IF YOU HAVE ANY QUESTIONS PLEASE LET US KNOW