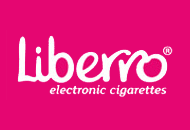 Welcome to Liberro Electronic Cigarettes.
Our products are intended for adult smokers. This website contains tobacco & nicotine related products and images. By entering the site, you are confirming that you are over the age of 18 which is the required age in the UK to purchase our products.
Contact

Have a Question?

Please add a short message.
Electronic Pipes

more info....
For pipe lovers, Liberro´s popular and easy to use e-pipes offer an experience to enjoy, without the aroma!

The sleek and beautiful stainless steel bodied Liberro "Click" e-pipe or classically shaped "Classic" e pipe with wood effect bowl and mouthpiece, with their specifically designed Holmes Blend e-liquid, guarantees to deliver a robust woody tobacco flavour and performs just like traditional pipes.
Utilising the latest technology for the ultimate vape our epipes are based on our popular CE4 & CE5 clearomisers to provide you with that all important satisfying vapour.