Welcome to Liberro Electronic Cigarettes.
Our products are intended for adult smokers. This website contains tobacco & nicotine related products and images. By entering the site, you are confirming that you are over the age of 18 which is the required age in the UK to purchase our products.
Contact

Have a Question?

Please add a short message.
30ml Rich Corona™ - Shake n Vape
£13
description
Ingredients
How to Use
Pre Order Info
reviews
Safety & Warranty
Just add the three bottles to the mixing flask to create 30ml of our original Purity blend.
'Season of mists and mellow fruitfulness', Keats could well have been referring to our fully TPD compliant Rich Corona e-liquid straw coloured, rich, earthy vape liquid. With its sensations of woodlands, nuts and flowers all contained in a rounded smoky cigar flavour, this e-liquid brings a great everyday tobacco vape with a twist of light background citrus sweetness.
Alone, it's the perfect vape for those who prefer something classic with a twist in their e-cig but it's also a great starting point to start mixing your flavours up. Our customers have already suggested that it can have a chocolate undertone, so why not try and bring this out by adding hints of our fruit flavours, such as Strawberry Sensation, or take it down the sweet route with a dash of Vanilla Indulgence?
You could try mixing it with Knightsbridge or one of our other tobacco flavours, to create your own personal blend of tobacco that is perfect for you. Of course, you could mix with any one, two, three or as many other flavours as you like, to create that vape that's unique to you.
We'd love to hear what flavours you've mixed so after you've tried, tested and come up with your blend of e-liquid, you can let us and our other customers know by writing a review.
click HERE to read about the ingredients of our e liquid.
Congratulations you've found our Shake n Vape kits, a more economical and flexible way to vape your favourite flavours 30ml at a time!
We'll send you everything you need to create the perfect vape. Just follow the instructions below and you'll be shaking n vaping in no time!
To make the original Purity blend (50PG/50VG) you'll receive a mixing flask and 3 x 10ml bottles as follows:
Simply add the three bottles to the mixing flask, attach the nozzle/tip from the flavour bottle, add the lid, shake and vape!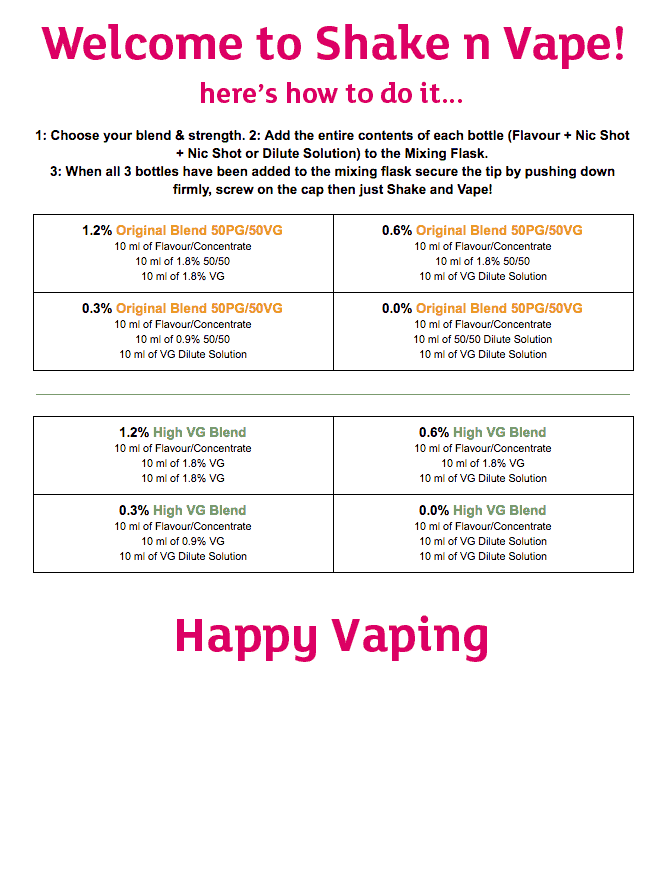 Our exclusive e-liquids are made fresh and, in small batches, to ensure you only ever get the freshest flavour and quality you'd expect from Liberro. Unfortunately, this means that from time to time they are temporarily out of stock.
But fear not! should you decide to pre-order your favourite flavour it will be shipped to you as soon as it arrives with us which is typically 5-7 days maximum. It also guarantees and reserves your bottles as soon as we get your order
Please note, however, that if you have other items on your order that the whole order will ship when the pre-order stock is available. Should you have other items you need sooner then please place a separate order or contact us for more details.
click HERE to read our safety and warranty information.
Customers who bought this product also purchased...